Weddings at Jiminy Peak
Picture yourself standing on top of a mountain. You are surrounded by family, friends, and sweeping views of the valley below. Or perhaps you envision a more intimate setting, saying your "I dos" brook side to the natural sound of rushing water.
Nestled in the Northern Berkshires in the Jericho Valley is Jiminy Peak Mountain Resort. At the center of our Massachusetts resort is an alpine village with courtyards, restaurants, banquet rooms, and lodging. Weddings can be intimate or over the top; food can be sublime or spectacular. Whatever your vision, the wedding venue staff at Jiminy Peak will help you to create an experience and memories that will last a lifetime.
Request A Quote or call (413) 738-5500 ext. 3930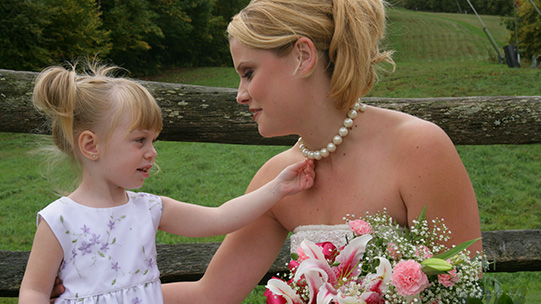 Wedding Ceremonies
Get ready to fall in love with your New England mountain wedding venue. Where you say "I do" should be as timeless as the love you share. Our wedding event venues have serviced all kinds of intimate vow recitals from simple ceremonies with a Chippah to ones with a stunning view from the Summit. Regardless of whichever of our wedding places you choose, our team will work to make sure the start of your life together becomes a magical memory you will cherish forever.
Wedding Receptions
Enter a world of your own. Jiminy Peak offers several beautiful wedding spaces to choose from for your reception that can seat almost any number of guests. Looking for an intimate dinner overlooking mountain peaks? We have the wedding place for you! How about a full extravaganza with all your friends and family? We have your back. Our mountainside wedding venues are the perfect place to celebrate your devotion to one another and start your life together surrounded by those who love you.
Wedding Rehearsals
The day before your wedding your dedicated ceremony coordinator will come in and take you through all the details of your special day and answer any final questions. They will also be with you as you set to walk down the aisle! After ensuring everything is set for the ceremony, retire with your friends and family to one of our many beautiful settings that are perfect for your rehearsal dinner. Socialize and de-stress with your closest friends and loved ones before the next day's festivities.
A Menu for Every Taste
Our exclusive wedding venue caterer, Centerplate, provides chef driven menus with delicious options for every palate. We can provide full plated service with delightful ice sculptures or casual buffets with a carving station. Our hotel wedding venue's bar service can be tailored to your needs offering a variety of wines, beer, cocktails, and special drinks. Your day can be completely customized to suit your vision!
Rooms for Everyone
After a long day and night of celebration do you know how your guests are getting home safely? At Jiminy Peak you no longer have to worry. Our hotel wedding venues offer a place for everyone to stay. We have many different styles of world-class rooms for your guests to choose from including our Country Inn Suites and 2 or 3-bedroom condos.
Experience Matters
At Jiminy Peak, we specialize in making your wedding day everything you've ever dreamed of. After you book one of our places to get married your personal, experienced planner will take you through every step of the process to make your day truly memorable. Our Massachusetts wedding places provide full-service dining and work together with a variety of local vendors including DJs, photographers, florists, and bakers to provide a complete experience. You are also welcomed to invite your own vendors or we can recommend someone. Whether your perfect day involves a traditional, classical theme, or a more extravagant, creative theme, Jiminy's wedding event venues team is here to offer their expertise in making that special day uniquely suited to every couple.