Adaptive Program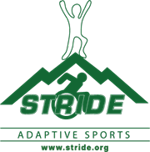 The Adaptive program at Jiminy Peak provides ski and snowboard lessons to individuals of all ages with physical, cognitive or developmental disabilities. Jiminy Peak partners with STRIDE Adaptive Sports, a nonprofit adaptive skiing and recreation organization for individuals with disabilities. Our Adaptive volunteer coaches are PSIA-trained and will assess, equip and teach individuals with special needs, one-on-on, to meet their specific goals, abilities and learning styles. We welcome individuals of all abilities!
Schedule
Mon-Friday AM or PM * by special request
Monday – Wednesday Nights 6PM – 8:30 PM
Saturdays & Sundays 9AM – 11:30 AM and 1PM – 3:30 PM
Join the STRIDE Race Team! Competition for both Special Olympics and Dianna Golden Race Series (TBD). Team practices on Saturday AM. To learn more, contact [email protected] or (518) 598-1279.
Cancellation Policy
You must give STRIDE at least 24 hour notice when canceling a reservation. The STRIDE Administrative office is not staffed on weekends or holidays. To cancel a weekend or holiday reservation, please call the Jiminy Peak Snowsports Desk at 413.738.5500 Ext. 5120.
Pricing
$70 for a 2.5 hr. private instruction lesson;
$130 for a morning and afternoon lesson;
$330 for 5 pre-paid lessons

$45 – Shadow ticket for a family member who would like to learn how to effectively accompany the adaptive skier/rider.
Shadow ticket only valid for duration of lesson.
All lessons include adaptive and standard rental ski/snowboard equipment, and helmet, as needed.
When you have completed all of your paperwork and STRIDE has confirmed your lesson dates with you, STRIDE will reach out with an invoice and link to payment..
**Financial assistance through the STRIDE David H. Clark Memorial Fund helps families in need of financial assistance to fully participate in STRIDE's activities or related activities.
To learn more about sponsorships for the Adaptive Program email [email protected].