Do You Have What It Takes to Conquer Each of Our Challenge Courses?
Nestled in the forests surrounding our resort is one of the best aerial adventure parks in Massachusetts, featuring 74 exhilarating elements to test yourself on. Get ready to push yourself out of your comfort zone and create lasting memories with your friends and family. Our aerial park is designed for all ability levels with 7 courses of varying difficulty featuring a variety of different skill tests. We promise you will have blast climbing and zipping through the trees as you conquer each of our challenges during your next visit.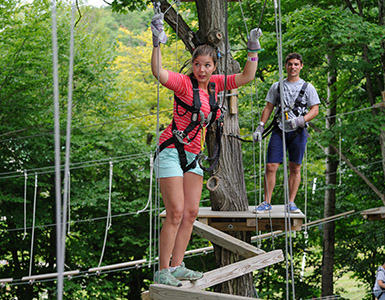 What is an Aerial Adventure Park?
Our aerial adventure park in Massachusetts is a self-guided, elevated outdoor ropes course through the trees. It consists of varying levels from "beginner/easier" to "advanced" aerial courses and includes a variety of challenges including:
Rope Bridges
Swinging Logs
Cargo Nets
ZipLines
And more
You are harnessed in and can go through as many or as few aerial obstacle courses as you choose. Each rope challenge course gets higher in the air as you increase in difficulty.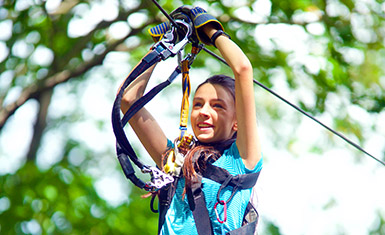 How Our Aerial Adventure Park Works
Guests are welcome to climb as many of our outdoor obstacle courses as they have the energy for, in the allotted two (2) hour session limit. Be advised there are age, height, and weight restrictions, in general, and by specific course, listed below. Our helpful activities staff will assist you before you even start to climb. We bring every guest through a ground school where we teach them how to use all their equipment, go over any safety rules, and discuss other amenities around the park.
Aerial Adventure Park
Orange Ropes Challenge Course
This outdoor obstacle course features 9 elements in total. This is our beginner course, where we recommend anyone who has never climbed before or is a little nervous to start. it is only roughly 10' off the ground. It has several elements that are designed to build your confidence in our gear and help prepare you to try something a bit higher. It consists of two suspension bridges, two fixed bridges, as well as a cargo net to climb through and two ziplines.
Yellow Ropes Challenge Course
Our second level starts to have some longer elements as well as a longer zipline. This aerial course offers 9 elements in total. It features similar style suspension bridges that require balance, instead of pure strength. It is also the only course that ends back on the main platform. At its highest point, it is roughly 12' off the ground.
Green Ropes Challenge Course
The Green course features 9 elements in total. This is the last of the easy courses and starts to bring guests further up into the aerial adventure park eventually ending in a zipline. The elements in this course will start to challenge your strength, as well as your balance. It has a total of two ziplines with a mix of suspension bridges and zig-zag boards. It is roughly 15' off the ground at its highest point.
Blue 1 Ropes Challenge Course
This aerial obstacle course is the more difficult of the two intermediate courses featuring 14 elements in total and is roughly 30'-40' in the air. This course offers a bit of everything when it comes to elements. Rolling logs, descending loops, tight ropes, ladder climbs, and a climb across the pogo sticks are just a few challenges. This is the true test to continue onto the Black course, the most challenging course in our aerial adventure park in Massachusetts. It brings you up to the very top of the outdoor adventure park and right next to the start for our Zipline course.
Blue 2 Ropes Challenge Course
This is the easier of the two Blue courses offering 16 elements in total and is roughly 30'-40' in the air. This is where the height starts to gradually increase with vertical ladders throughout the course. The aerial obstacle course also features vine walks (the use of ropes to help balance) and the first time you will encounter a commando zipline, where you will need to pull yourself a short distance to reach the platform. It ends with a large zipline over a creek where you can either return to ground school to start a new course or continue over to the Zipline course.
Black Ropes Challenge Course
The expert aerial obstacle course features 14 Elements in total. It's a true challenge from start to finish, starting with a vertical climb up the Fireman's ladder, leading into climbing across a cargo net to the Islands in the Sky ( 2' platform spanning over 50' to get to the next element). The Space Loops are our most difficult element and if you can power through that you'll be rewarded with a zipline about 60' in the air and over 100' long. The outdoor rope course finishes with a vertical climb straight up a tree to the top platform 60' up and ending with another zipline at the top of the obstacle course park.
Zipline Course
This area of our outdoor adventure park features 3 ziplines in total, that increase in size as you progress to the end. Starting on the ground for the first 90' zipline, you will quickly land on the platform that is now 35' off the ground. The second zipline (roughly 120') brings you to a rigid ladder that you must climb down to start the last zipline. Our third and final zipline is the largest in the outdoor adventure park (roughly 300'). It brings you past the lower courses giving everyone a chance to see you zip. Once you are on the platform it's now the true test for the day, the leap of faith, a 35' jump off the platform on a descent device that slowly lowers you to the ground.
A Thrilling Experience for all Group Events
Our aerial adventure park in Massachusetts is also the perfect place for all sorts of group events from team building events for corporate groups to a fun outing for family reunions and birthday parties. Contact one of our resort sales representatives for group pricing and additional information.
Window Pricing
All Park Passes
(Online discounts available)
Pass 1
Pass 2

$69

54+ in.

$59

48-53 in.
Mountain Adventure Park Ticket
Pass 1
Pass 2

$49

54+ in.

$39

48-53 in.

Tickets purchased on-mountain after 3pm are $5 off. 
2023 Hours of Operation
| | |
| --- | --- |
| Memorial Day Weekend to Mid-June | |
| Weekends & holidays only | 10:00 AM to 6:00 PM |
| Mid-June to Labor Day | |
| Open daily | 10:00 AM to 6:00 PM |
| September to Mid-October | |
| Closed | |
Rules & Restrictions
Guests must complete each aerial course before moving up to the next level
Sneakers, hiking boots or other closed toe shoes are required
Gloves are used during your Aerial Adventure Park session. We have gloves on-site for use during your session or you are welcome to bring your own
Women who are pregnant and anyone who has had a kidney transplant may not use Aerial Adventure Park
All guests are required to sign a waiver before starting
Maximum weight of 264 lbs. to climb in the Aerial Adventure Park
All guests must be at least 6 years of age AND 48 inches tall
The Blue & Black require guests to be at least 60 inches tall
Ages 6-8 may only use Orange, Yellow and Green rope courses
Ages 9-15 may use Orange, Yellow, Green and Blue aerial rope courses
Ages 16+ may use all aerial courses including Black