MAP UPDATES
Open weekends, 10 am – 6 pm.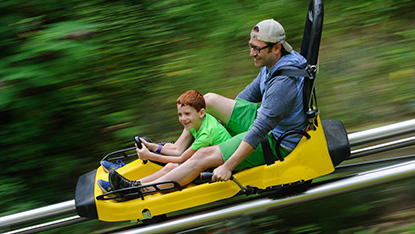 Mountain Coaster
Ride Restrictions
Must be at least 9 years of age and 54" tall to ride alone
Children must be at least 3 years old and 38" tall/45 lbs to ride as a passenger with a ticketed person age 16+.
375 lb maximum weight per sled (dry conditions), 330 lb maximum weight per sled (wet conditions)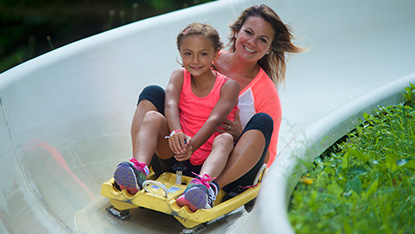 Alpine Super Slide
Ride Restrictions
Minimum height – 38 inches
Minimum age - 3 years
38"-47" must ride as a passenger with a ticketed person age 16+
48" and taller must ride alone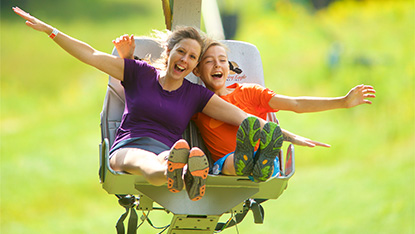 Soaring Eagle
Grab a friend and fly through the air on the Soaring Eagle!
Ride Restrictions
Must be 42" or taller and fit securely into the restraint system in order to ride the Soaring Eagle.
Must be 48" to ride alone, 42"-47" must ride with a ticketed person age 16+
450 lbs max per cart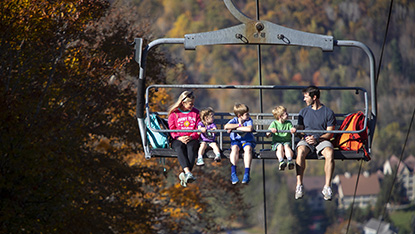 Scenic Chairlift Rides (Weekends & Holidays Only)
Ride to the summit of Jiminy Peak on the region's only six-passenger chairlift, beginning July 1st - 4th, 12 - 4 pm, and operating on weekends and holidays, through closing in October. At the top, you will be dazzled by unique and spectacular views of Mount Greylock and the Jericho Valley. After enjoying the views and exploring the summit board the Express for the descent back to the base area.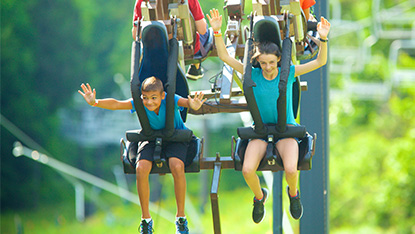 Giant Swing
Push it higher on the Giant Swing - a screamalicious delight unlike any swing you've been on before, as you arc high into the sky with three of your friends!
Ride Restrictions
Minimum height 48 inches, minimum weight 60 lbs
Maximum weight 300 lbs per person, maximum height 6'3"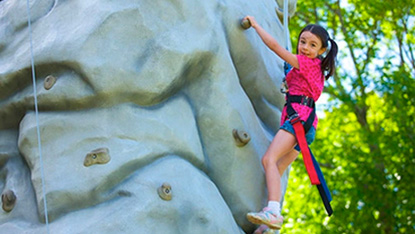 Rock Climbing Wall
Scale our rock climbing wall with automatic belay lines - a terrific challenge for kids and adults! The wall has three routes to the top! A beginner side for the first timers, an intermediate, and an advanced for the experienced climber.
Ride Restrictions
Minimum climber weight/height - 40 pounds, 42".
Must wear closed-toe shoes or sneakers, no sandals.
Maximum climber weight is 240 lbs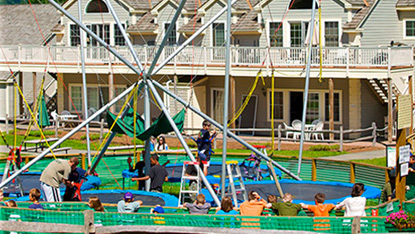 Euro Bungy Trampoline
This is not your average backyard trampoline! Complete with bungees and a swivel harness. You can get big air and practice those flips and twists.
Ride Restrictions
Minimum height 38"
Minimum weight – 20 lbs
Maximum weight – 200 lbs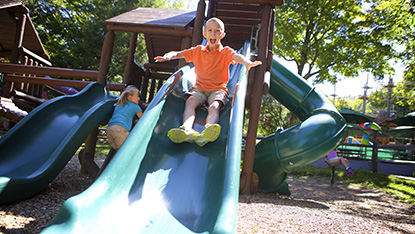 Playground & Children's Activities
A bounce house, playground, swings, spring toys and more are the perfect activities for the kiddos to get their energy out!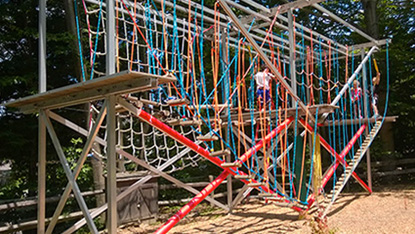 Kid Climb
Harness in and start the adventure through this fun and challenging ropes course!
Ride Restrictions
Must be at least 44 inches tall
Must wear closed-toe shoes or sneakers, no sandals.
Maximum weight 240 lbs.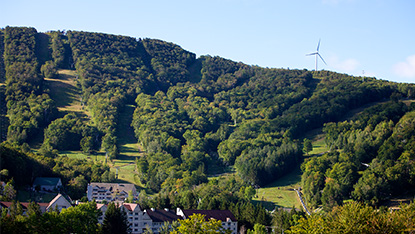 Hiking
Lace up your hiking boots and get ready for a real workout. Hike your way up the mountain to the summit; it's a challenge that will reward you with beautiful views of Mount Greylock and the Jericho Valley.
For a shorter less strenuous hike, explore our walking trail network, located near the western border of our property. Hike up Ace of Spades (trail between the Country Inn and the Mountain Coaster), bear right on John Hancock and follow the snowshoe trail icons.
Trail maps are available at the front desk of the Country Inn, the Ticket Window in the Crane Lodge, or at the Customer Service Desk in the Paul Major Welcome Center.
Your Trip Just Got More Fun!
Jiminy Peak's Mountain Adventure Park is packed with exciting thrill rides and challenging courses to create unforgettable memories. Rush down the mountain on the alpine coaster, zip through the air on the Soaring Eagle, or jump higher than you thought possible on the Eurobungy trampoline. Afterwards take a scenic chairlift ride to the top of the mountain and enjoy breathtaking views of the Jericho Valley. We have something for the entire family to enjoy! The outdoor adventure park is located at the base of Jiminy Peak, in front of the Christiansen's Tavern. Don't miss out on the thrills of Jiminy Peak's family Adventure Park during your next trip to the Berkshires!
Private Events
Plan a party for the kids, and kids at heart, in your group. Our adventure park is available to be rented out for your next company or private event! The Mountain Adventure Park is available for private events when it is not open to the public (generally midweek, early and late season). Special group offers are also available during regular operating hours to groups of 20 or more people. Please contact Group Sales at 413.738.5500 ext. 3030 for more details.
Mountain Adventure Park
Do You Have to Sign a Liability Waiver for the Outdoor Adventure Park?
Yes, all guests who plan to ride any of the attractions in the outdoor adventure parks are required to sign a liability waiver. Those guests under the age of 18 will need the signature of a parent or guardian.
What Happens If There is Severe Weather?
For the safety of our guests, Jiminy may temporarily delay or stop operations of attractions in our family adventure park in the event of severe weather such as thunderstorms and high winds. The Alpine Slide will be closed whenever there is moisture present on the track. This may include morning dew, drizzle or rain. The Alpine Slide can not reopen until the track is completely dry and inspected by staff members.
Do I Have to Purchase an Entrance Ticket If I Am Not Going to Be Riding The Rides?
No, you do not! Tickets are only required for those riding in the Mountain Adventure Park or climbing in the Aerial Adventure Park. If you are simply accompanying your group, you do not need to pay an entrance fee for the family adventure park.
Window Pricing
All Park Passes
(Online discounts available)
Pass 1
Pass 2

$69

54+ in.

$59

48-53 in.
Mountain Adventure Park Ticket
Pass 1
Pass 2

$49

54+ in.

$39

38-53 in.
Book of Six Single Ride Tickets
(Not available online)
Pass 1
Pass 2

$80

54+ in.

$49

38-53 in.
Single Park Passes may be purchased for access to either Mountain Adventure Park or Aerial Adventure Park.
An All Park Pass can be purchased for access to both Mountain Adventure Park and Aerial Adventure Park. Spend the day exploring all our resort has to offer.
Single Ride tickets and 6 ride Books are available for the Mountain Adventure Park only.
Guests who are not riding any of the rides or climbing in Aerial Adventure Park do not need a ticket to enter the adventure park with their family or friends.
2023 Hours of Operation
| | |
| --- | --- |
| Memorial Day Weekend to Mid-June | |
| Weekends & holidays only | 10:00 AM to 6:00 PM |
| Mid-June to Labor Day | |
| Open daily | 10:00 AM to 6:00 PM |
| September to Mid-October | |
| Weekends only | 10:00 AM to 5:00 PM |
*Note: ANY MOISTURE WHATSOEVER will force the closure of the Alpine Slide. This includes morning dew, drizzle, rain, and thunderstorms