Our Parks
Alex's Park
Alex's is located at the base of the mountain, between the Summit Triple and Grand Slam lifts. It can be accessed by the Berkshire Express, Summit Triple or Grand Slam chairs. It also has its own surface lift if you just want to hang and do laps. Alex's is the place to see and be seen at Jiminy!
Coyote Ridge
Coyote Ridge is located at the top of the Ace of Spades trail, and can be accessed by the Grand Slam, Summit Triple or Berkshire Express chairs. This is a flow park with a little something for everyone. Whether you're dialing in jibs, hucking gaps or upping your slope style, Coyote is your jam!
Grommetville
Our entry-level park, located under the Novice chair, near the top of the 180. Grommetville contains small features designed to develop the basic skills and confidence needed for park riding. Everyone is welcome and encouraged to take a lap, or two, or three!
Competitions
Jiminy hosts several freestyle events per season. Anyone competing in a freestyle event at Jiminy Peak must present a signed Event Wavier Form, prior to each competition. Those competitors under the age of 18 must have the Event Wavier signed by a parent or legal guardian.
NSAA Smart Style Initiative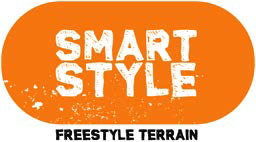 We encourage all park users to view the NSAA Smart Style video on Freestyle Terrain Safety and keep these 4 tips in mind when riding in any park:
MAKE A PLAN – For every feature you hit, your speed, approach and take-off will directly affect your maneuver and landing.
LOOK BEFORE YOU LEAP – Know your landing is clear before you jump and clear yourself from the landing area quickly.
EASY STYLE IT – Start small and work your way up. (inverted tricks not recommended)
RESPECT GETS RESPECT – From the parking lot, to the lodge, to the liftline and in the park.
Massachusetts General Law
Section 71 O of the Massachusetts General Law requires that all equipment, approved for use on the mountain, have a strap or leash attached for the purpose of restraining or preventing runaway equipment.