Multi-Week Ski and Snowboard Programs
Mountain Adventure
For an ongoing learning experience, kids can try Mountain Adventure, a 7-week program for kids ages 6-14 that focuses on fun, safety and learning. Kids will develop and practice skills, on select Saturdays or Sundays, throughout the season. The program begins at 9 am, with a 90-minute lesson, and participants without a season pass can continue to ski or ride until 1 pm.
$389 for your choice of a Saturday or Sunday program.

$289 with Jiminy Peak season pass that is valid on day of program.

Saturday dates are 1/7, 1/21, 1/28, 2/4, 2/11, 2/25, and 3/4.
Sunday dates are 1/8, 1/22, 1/29, 2/5, 2/12, 2/26, and 3/5.
Enrollment is limited, so please sign up early!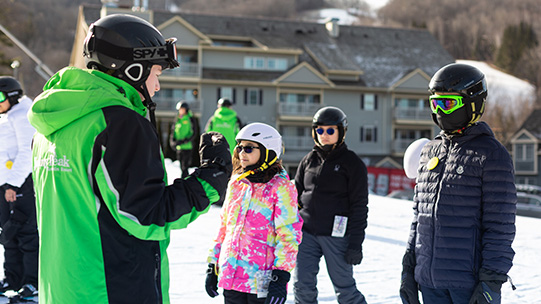 Tri-State Race Team
If you like the thrill of racing and love competition, get ready to have fun at Jiminy with our Tri-State Race Team. Races are held in MA, NY and CT. The teams meet for two sessions on Saturday and Sunday. The program cost is $1025. All team members must hold Jiminy Peak season passes, join the U. S. Ski Association and Tri-State. Racers must pay additional fees for races including those held at Jiminy Peak.
For more information and a Race Team application, contact our ski school at 413-738-5500, ext. 5120. Or, for more information visit the teams website.
After School & Weekend Programs
Jiminy Peak offers special reduced rates for either a lift with instruction program or a lift only program, to groups of twenty (20) or more. We offer either a 6-WEEK MIDWEEK PROGRAM, which is available Monday through Friday, during the day or evening, or a 6-WEEK SUNDAY PROGRAM, which is only available Sunday Twilight (3-10pm) this season. As an added bonus for groups participating in any of our 6-week programs, we offer an optional 7th week of skiing or boarding at NO ADDITIONAL CHARGE.
We offer your group maximum flexibility to choose the arrival time and duration of your group visit. Individual group members are free to choose whether or not to participate in group instruction, based on their skill level.
Contact our Snowsports School at 413.738.5500 x 5120 for more details or to register.
Women's Winter Escape
If you feel most comfortable taking classes with other women, our Women's Winter Escape offers up a relaxed atmosphere where women can learn, brush up on skills, unwind and have fun. Choose either Tuesday or Wednesday for your six-week Escape that features a group lesson and camaraderie each week. The program starts at 8:30 am with a complimentary warm-up beverage, followed by skiing or riding from 9 am – 1 pm, for the half-day session, or until 4:30 for the full-day session. There will be a 90-minute group lesson starting at 10 am. Participants will be grouped by ability and interest, and group size will be limited.
As an added benefit, all participants will have access to the Country Inn Health Club on the day of their program.
$379 half-day (9a-1p) or $419 full-day (9a-4:30p).

$305 with valid Jiminy Peak season pass.

Tuesday dates are 1/3, 1/10, 1/17, 1/24, 1/31, and 2/7.
Wednesday dates are 1/4, 1/11, 1/18, 1/25, 2/1, and 2/8.