Celebrations As Spectacular As Your Love
Welcome to a historic wedding destination that is more than just another boring reception venue. At Jiminy Peak, we invite you to celebrate your union surrounded by your loved ones and the timeless mountain vistas of our Western Massachusetts resort nestled in the Northern Berkshires. Whether you are looking to commemorate your wedding with an intimate group of 30 or a rousing group of 350, you will find Jiminy has a wedding reception venue that is guaranteed to create a night you will cherish forever. Make it a magical weekend by creating a resort getaway for you and your guests. Our resort has the feel of a classic mountain village with plenty of fantastic restaurants, cozy accommodations, rejuvenating amenities, and exhilarating activities all in one place for your loved ones to enjoy. You will work with an experienced manager to help you coordinate it all so all you have to focus on during your special day is each other.
Request your wedding reception venue proposal or call our weddings team (413-738-5500 ext. 3930) and let's get to work on planning your reception!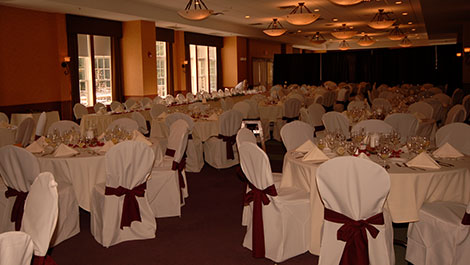 JJ's Lodge
Capacity: Up to 320 Guests
We promise JJ's Lodge is sure to take your breath away (if the bride hasn't already done that) as you gaze out the large windows overlooking stunning mountain vistas. As the largest wedding reception venue in the Berkshires, JJ's lodge can accommodate up to 320 guests. This place to have a wedding reception also features a large outdoor stone patio with open-air fire pits for your guests to bask in the sun or grab some fresh air.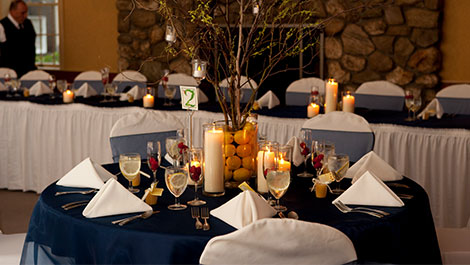 Crane Lodge
Capacity: 70 - 140 Guests
With its elegance, giant stone fireplace, patio and firepits, and central access to the rest of the resort, the most popular wedding reception venue at Jiminy Peak is easily the Crane Lodge. Located at the base of the mountain, this 3,750 sq.ft. hotel wedding reception space is perfect for couples looking to host a large gathering of friends and family.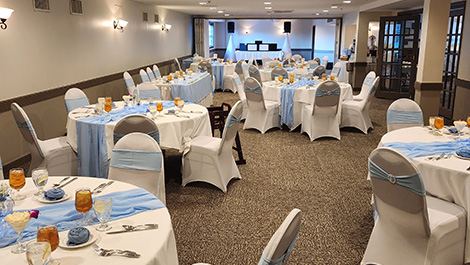 Fisher Room
Capacity: 50 - 120 Guests
Located on the second floor of The Country Inn, the Fisher Room is a traditional ballroom that can accommodate up to 130 wedding guests. This 1,700 sq. ft. wedding reception venue also features an adjacent fireside lounge with comfortable couches and chairs overlooking breathtaking mountain views. The private lounge is perfect for your cocktail reception or extra space for guests who need to take a break from the party.
Catering
No wedding reception is complete without the perfect meal to accompany the celebration. Our culinary team will work with you hand in hand to create exactly the experience you envisioned with meals that will delight and excite your taste buds. Jiminy's wedding reception venues give you the flexibility to offer everything from simple buffets to elegant dinners. Our catering team doesn't just stop there though. How about a phenomenal ice sculpture of two kissing swans? Or what about an outdoor firepit and s'mores area? Jiminy's resort wedding receptions team works with couples to create experiences worthy of their monumental celebration.
Cocktail Hour
While your guests enjoy a bountiful arrangement of hors d'oeuvres, coffee, and cocktails, Jiminy invites couples to enjoy our pre-reception bridal suite with champagne, beer, wine, soft drinks, and hors d'oeuvres before joining their guests. Jiminy's resort wedding reception venues provide a two-hour cocktail hour following your ceremony where you can welcome guests with a premium bar before your reception begins.
Beverage Service
Our New England wedding reception location has a variety of bar service options that can be catered to your specific needs, Jiminy Peak's resort wedding reception venues offer full bar capabilities including:
Wine
Beer
Cocktails
Specialty Drinks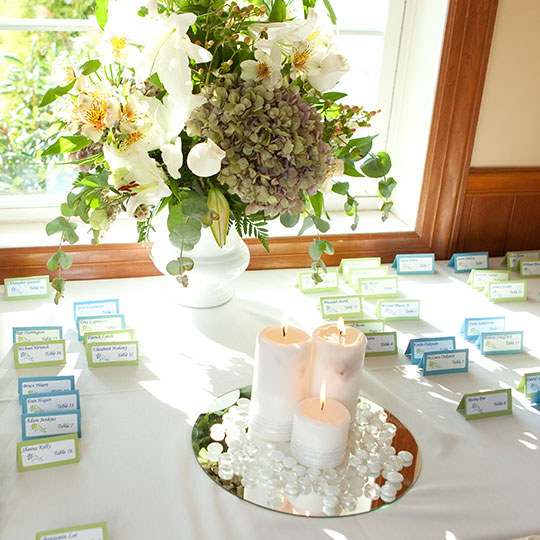 Reception Services
With professionalism, attention to detail, and constant support, Jiminy Peak's dedicated weddings support team works hard to make sure you have everything you need to create lasting memories on your special day. Any obstacle that might pop up on your wedding day will be handled with grace so you can focus on your party. Your wedding coordinator will be by your side as you plan the perfect celebration of love for the start of your life together. Jiminy's wedding receptions venues provide couples with:
Tables
Chairs
Linen
China
Dance Floor
We are your dedicated partner and willing support staff putting together everything so that once your wedding day arrives all you have to worry about is saying "I do".
Ready to Plan a Grand Celebration of Your Love?
Allow Jiminy's four unique wedding reception locations around our New England resort to be a blank canvas to make your dreams come alive. Nothing beats the views from our Massachusetts wedding receptions venues as you enjoy one of the best days of your lives. We invite you to tour our event rooms or contact one of our wedding coordinators for a proposal.
Frequently Asked Questions
Wedding Receptions
How Long Are Wedding Receptions at Jiminy Peak?
Jiminy's places to have a wedding reception are available for 5 hours with the option to add an additional hour for an additional fee.
How Far In Advance Should Couples Book a Jiminy Wedding Reception Venues?
Popular dates fill up quickly for our Massachusetts resort wedding venues, so we recommend couples plan as far in advance as possible. Let us know a few of your choices and we will do our best to make sure you can reserve the wedding reception location and set the date you are looking for. Then come on up and look around! We will be happy to give you a tour of our facilities.
Can You Use Your Own Caterer?
The answer here is no, but our places to have a wedding reception will do their best to accommodate any special menu requests for customized items with the help of our Chef Team. Guests are welcome to bring their own food to their Suite or Condo, but our public areas require food that is prepared on-site
Are Kosher Options Available?
Jiminy's hotel wedding reception venues have made special arrangements with a licensed Kosher kitchen to provide catering for these special circumstances.
Are Jiminy's Wedding Reception Locations Handicap Accessible?
Yes, Jiminy's hotel wedding reception venues are handicap accessible.
What Are Couples Required to Provide for Their Wedding?
Couples are responsible for choosing their own DJ, Florist, Cake, and Photographer, however, our hotel wedding receptions team can assist you with any and all of their logistics.