Timeless Mountain Weddings
Jiminy transforms ordinary vow recitals into unforgettable destination wedding ceremonies. Create a celebration of love that is surrounded by the inspiring views of our Western Massachusetts resort nestled in the Northern Berkshires. Couples will have the choice between multiple indoor and outdoor wedding ceremony sites throughout our resort. Our team will be by your side as we help you to bring your dream wedding to life, making sure all the details are taken care of for your special day.
It's not just the views that make Jiminy a destination wedding ceremony spot – your guests will also be able to enjoy a variety of adventures during their stay. Jiminy's group lodging accommodations make it easy to transform weddings into a vacation getaway. Your friends and family can make the most of your wedding with attractions that will thrill them at our adventure park, restaurants that will excite their palates, and picturesque hiking trails surrounded by nature, mountains, and rolling hills.
Request a proposal and let's get to work on planning your big day and Massachusetts adventure together.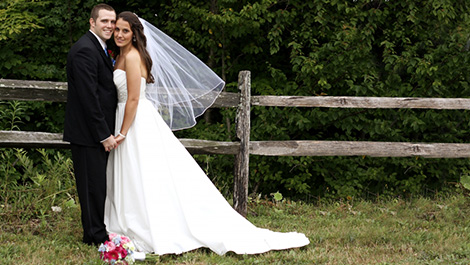 Brookside
Up to 60 Guests
Brookside offers a quaint tree lined, grassy wedding ceremony space alongside one of our babbling brooks. This intimate wedding ceremony location also has a parking lot nearby allowing for easy access to your ceremony for all of your guests.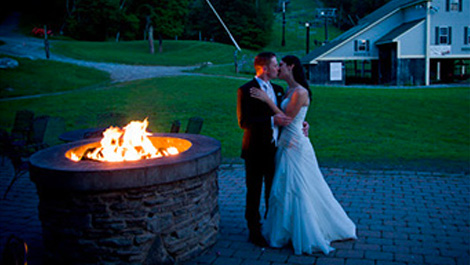 Base
Up to 160 Guests
Our base area is located right next to the Berkshire Express. This wedding ceremony location allows for a lovely Mountain backdrop without the chair lift ride to the Summit. It also affords easy access to our event spaces following your ceremony.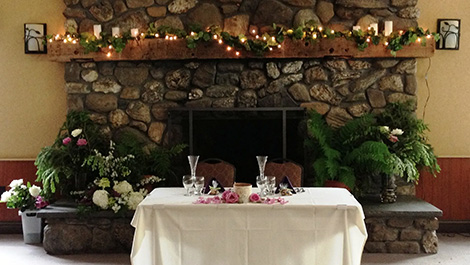 Crane East or Crane West
Up to 80 - 100 Guests
Both Crane East & Crane West offer beautiful stone fireplaces as a backdrop to recite your vows. This wedding ceremony place is reminiscent of a rustic ski lodge with modern charm. We also can create a romantic wedding ceremony space that offers indoor comfort, and easy access to your wedding reception venue. The Crane East wedding ceremony site can host up to 100 guests while Crane West can accommodate up to 80 guests.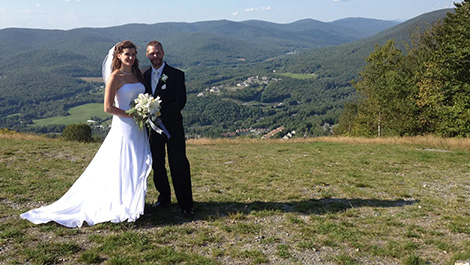 Summit
Up to 200 Guests
The Summit wedding ceremony venue offers your guests panoramic views of the Berkshires and a scenic trip to the top on our Berkshire Express Chair Lift. We will set up the wedding ceremony site for your vows to take place in front of the Mountain Top Vista. You can have someone stream it from the top to a screen down below too! Our staff can also set up a viewing room for any guests who cannot access the Summit.
Worry About Your Vows Not Your Venue
Wedding planning is stressful enough that you don't need any added stress from your wedding ceremony venue. Our team will take care of all of the logistics, so you will have all the support you need. You even get a coordinator, dedicated to your ceremony to help keep it on track!
Ready to Plan a Day You'll Never Forget?
Celebrate your love surrounded by friends, family, and breathtaking views overlooking the Jericho Valley. With several unique wedding ceremony venue options to choose from and countless adventures to schedule around your special day, our team will help you to plan the perfect day just as you've always dreamed. Request a quote or schedule your tour of our Massachusetts wedding venues today!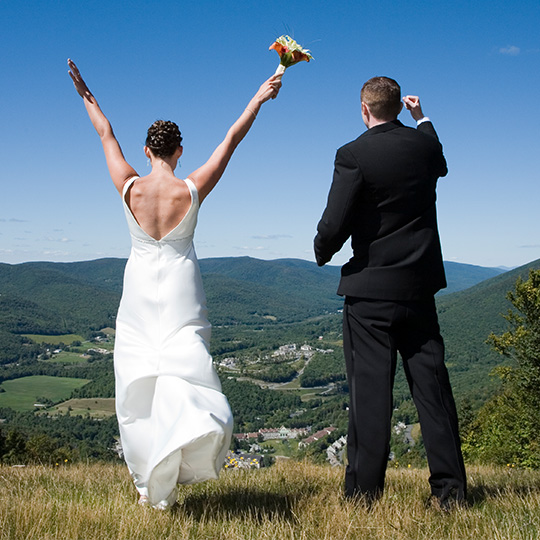 Frequently Asked Questions
Wedding Ceremonies
When Can You Have Your Wedding Ceremony at Jiminy?
Our destination wedding ceremony venues are available 3 seasons of the year. We do not typically host wedding ceremonies between November and March.
How Far in Advance Should Couples Reserve Our Wedding Ceremony Locations?
We book our Massachusetts wedding ceremony places as far as 2 years in advance, but sometimes can make accommodations available on short notice based upon availability. Weekends usually book up the fastest with weekdays typically having the most flexibility.
What are you responsible for when planning a wedding ceremony at Jiminy?
Our places to have a wedding ceremony allow you to choose your decor. Flowers are also available with some of our wedding ceremony site packages or you can use your own florist. Couples will also get to choose their own baker for their cake (we have a list of vendors who do a beautiful job!). Our wedding ceremony places also require that you hire your own DJ and select your officiant. Ask your sales representative about our local lists if you need help finding vendors.
Is there an area for the bridal party to get ready around the wedding ceremony location?
We do offer additional spaces that can be used by the bride and her bridesmaids to set up hair, massage, yoga – whatever you wish!