Group Activities, Events & Tickets
Groups at Jiminy Peak: You Belong Here
What do Corvette owners, internationally renowned tattoo artists, and quilters have in common? You guessed it! They all chose to hold their gatherings at Jiminy Peak Mountain Resort!
The beautiful Berkshire Mountains are the perfect setting for groups to come together, away from the ins and outs of daily life. It is easy to gain perspective on whatever your group's purpose is once you get people away from the environment in which they spend most of their time. Although Jiminy is fully "wired" with free Wi-Fi, flat-screen TVs in all rooms, and AV equipment, we invite you to take the opportunity to turn off devices and enjoy the country. We think it's beautiful and we want to share it with you!
Contact Group Sales or call (413) 738-5500 ext. 3030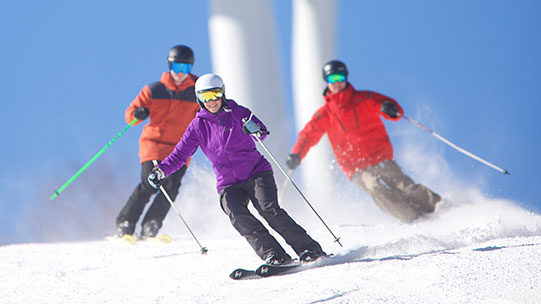 Four Seasons of Group Activities
Group Tickets
For group tickets, Jiminy Peak requires 20 or more people to get the discounted rate. Everyone must arrive at the same time and one person is responsible for payment for the whole group. Contact our sales time for specific group activity rates.
Group Ski Days
Looking to hit the slopes for an unforgettable group trip? Jiminy Peak offers discounted rates for group lift tickets, ski & snowboard lessons, and rental equipment. Lift tickets are valid for 8 hours. For the non-skiers in your group, Jiminy Peak also offers snowshoeing around our resort property plus our mountain coaster is also open all winter. Additionally, we offer ski packages for our winter groups that can be customized to what your group is looking for. Contact our sales team for further details on packaging and group ski ticket deals.
Summer Group Activites
Mountain Adventure Park
From thrill rides to relaxing scenic chairlifts, Jiminy's Mountain Adventure Park offers plenty of adventures and leisurely pursuits for your group to discover and explore:
Giant Swing
Soaring Eagle (seated zipline)
Euro-Bungy Trampoline
Rock Climbing Wall
Scenic Chairlift Rides
Jiminy's adventure park is also available to be entirely rented out for special group events. Contact our group sales team for more information.
CTA Button: Learn More
Aerial Adventure Park
For event organizers looking for group activities with a mix of team building and a rush of adrenaline check out our aerial adventure park. Jiminy Peak's aerial park is a self-guided, elevated outdoor ropes course through the trees consisting of varying levels of challenge courses. You are harnessed in and your group can go through as many or as few aerial obstacle courses as you choose. Each rope challenge course gets higher in the air as you increase in difficulty. This group activity features:
Rope Bridges
Swinging Logs
Cargo Nets
ZipLines
And more
CTA Button: Learn More
Jiminy Welcomes Group Events of All Shapes & Sizes
Groups come in all shapes and sizes, and our conference sales staff, with over 35 years of combined experience, will make sure your group receives the attention it deserves, whether it be 15 or 450 attendees. At Jiminy Peak, you will find plenty of small meeting spaces, traditional banquet rooms, and mountain-themed rooms complete with stone fireplaces and patios with fire pits. We can set up any combination of these rooms to fit your needs. At Jiminy Peak, we have space for every group trip and event no matter your size including
Corporate Events
Associations
Company Picnics
Social Clubs
Car Clubs
Religious Groups
Sports Teams
School Groups
Youth Groups
Retreats
Team-Bonding Outings
Parties
Summer Camps
And More
CTA Button: Learn More
Large Groups Can Have the Resort to Themselves
Your group can book all 159 suites and condominiums and make the resort its home for the entire time it's here. Enjoy breakfast, lunch, and dinner at one of our onsite restaurants, or have Jiminy's award-winning Centerplate cater huge parties and smaller breakouts. Or do you want to cook for yourself? All lodging on vacation rentals are "suite" style; Country Inn rooms feature kitchenettes, and condominiums all have full kitchens, so go for it!
Catered Events
Keep your well-fed, energized, and ready for whatever you plan for the day ahead. Jiminy Peak's in-house caterer, Centerplate, offers a wide selection of options for groups including buffets and plated meals. You will also have a wide range of menus to choose from so you can create a food and beverage experience tailored to your unique tastes.
Group Vacations & Getaways
Plan a relaxing group getaway to the Berkshires and stay a night or two. We promise your team will come back feeling rejuvenated and recharged. While you are here leave the details to us and spend more time enjoying your group vacation. Jiminy Peak's experienced team can help organize everything including lodging, activities, and dining experiences during your stay with us.
Group Lodging
Groups who book a minimum of 10 rooms are eligible to reserve a block of rooms with discounted rates. We will hold the block of rooms until 30 days before the arrival date. After this date, we will still honor the discounted rate if we have availability. Our Massachusetts resort also offers spacious vacation homes and condominiums perfect for group getaways.
An Experienced Team to Guide the Process
Our group trips and event planners will do everything they can to meet your needs and will be available through every step of the process. If you have a vision for what your event will "look" like, we will make it happen. If you need help crafting your event, we can do that too. So take a breath, feel good about choosing Jiminy Peak, and relax; you are in good hands.
Ready to Plan the Ultimate Group Outing?
The beautiful Berkshire Mountains are the perfect setting for groups to come together and create memories that last a lifetime! Best of all your group won't have to travel far. Jiminy Peak is only a short drive from many cities in Massachusetts and New York including Albany, Springfield, Worcester, and Boston. For more information on Jiminy Peak's group event venues, activities, tickets, and packages contact our group sales team or call us at (413) 738-5500 ext. 3030.
CTA Button: Request a Quote