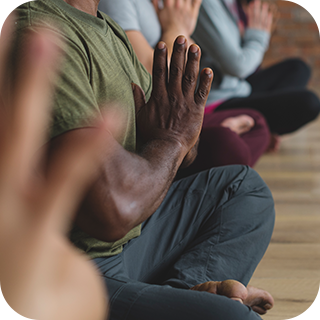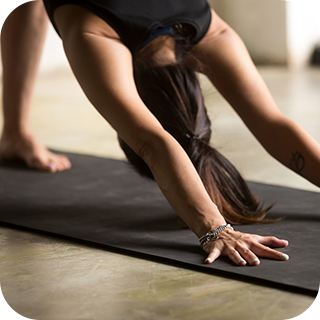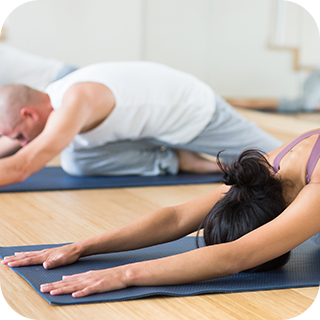 Laurie (Lawrence) Carroll
Laurie (Lawrence) Carroll is a 500 hour RYT through the Kripalu lineage. He has practiced yoga for 17 years and meditation for over 35 years.
His other certifications include: personal trainer with NASM, Group Trainer with AFFA and Certified Pickleball Coach. He holds Level III and IV fitness certifications in Australia.
He is a native born Australian who grew up as a surfer and long distance runner, including two 100 mile ultra-marathons. He lived in the Berkshires for 23 years as a spiritual aspirant, high school math teacher, yoga and fitness instructor. He was nominated for the Distinctive Educator of the Berkshires in 2011.
Laurie's focus in yoga is to help you maintain optimum health, strength, flexibility and focus, in order to live as vibrantly as possible.
Laurie is a compassionate and light-hearted teacher giving his students space and safety to learn and develop. He encourages students to be patient and kind to themselves, working at their own level.
Laurie teaches a wide range of classes including privates, group events and more. Laurie currently lives in Queensland Australia.
---
Nicole Carter
I am the director & owner of Greylock Yoga in North Adams MA. I am a RYT- 500.
I've been a yoga teacher for over 10 years and a dance instructor for 20. I am also a certified Prenatal Yoga Teacher, Licensed Barre Eclipse Instructor & Certified Health & Wellness Coach. I love growing as a teacher through continued education and staying motivated to be creative & open minded as my practice ebbs & flows.
In my classes you can expect to see dynamic, creative, safe, functional sequences, peppered with core work and optional inversions & arm balances. My teaching focuses on mindful movements, connecting breath & movement and meeting your body where it's at. My cues are feeling based sprinkled with anatomy and motivational language. My teaching approach is safety first and listening to your body. I get goofy and love to say what's in my heart and mind, therefore you may hear a swear word or joke fly out of my mouth all while listening to a fantastic, uplifting and fun playlist! My goal is for you to feel your best self and walk away with an alive, empowered, freedom in your body, heart and soul.
---
Nora Fenner
Nora Fenner is a 500hr Kripalu Yoga Teacher, Yoga Health Coach and Energy Healer. She leads dynamic yoga classes and supports a community that studies habits over ten weeks to improve sleep, digestion, and overall better health. She supports habit evolution on and off the yoga mat by leading one-on-one and group sessions with like-minded participants. Her sessions foster an environment where all participants feel supported to meet their body, mind and spirit goals. She brings an authentic, grounded and light cheer to her classes. Nora feels the practice guides her to inner peace and strength, which she shares through yoga and coaching. Visit noraleighyoga.com to connect and learn more.
---
Kala Gresser
From a very young age, Kala was drawn towards a spiritual way of living. She is Always intrigued by her mind, body connection…her connection with her family… her connection with mother nature…and her undoubtedly connection with all that is.
With over 2 1/2 decades of experience in her field, in addition to teaching all over the Berkshires, Kala has taught in New York City, Long Island, Jamaica, and Alaska.
If you know, Kala, then you know that all of her teaching come from a place of pure authenticity. She brings her compassionate energy and her own understanding of gratitude to her teaching style. Her classes are both therapeutic and challenging.
Kala has been featured in Berkshire magazine, as well as leading group and private classes all over the Berkshires since the 90s. She has had a long career as a yoga instructor a Canyon in Ranch in Lenox Massachusetts, where she has had many of wonderful opportunities.… Remember, when Lady Gaga perform at Tanglewood? Well, Kala gave her a two hour hot yoga private session to right before she hopped on stage with Tony Bennett.
Kala most recently recognized as "the best yoga teacher" BY RURAL INTELLIGENCE for businesses in Litchfield, the Berkshire, Duchess and Columbia counties.
Off the mat you can find Kala spending time laughing, traveling and simply LIVING with the ones she loves the most!
---
Rachael Huntley
Rachael Huntley grew up as a dancer and has always found the practice of yoga to be refreshing because there is no "right way" to do the movements. An RYT 200 Hatha instructor, Rachael encourages and empowers her students to trust their own inner guidance as they flow, deepening the mind-body-soul connection. She is a firm believer that savasana is, in fact, the most important pose: a reminder to simply "be." Rachael enjoys mountaineering, triathlon, knitting, and cooking. She often dedicates her practice to her two daughters, who inspire her daily.
---
Beth Kozik
Beth Kozik has been practicing as a licensed mental health counselor since 2005. Most of her career she spent working with young adults in higher education settings including Boston University, Purdue University and Harvard Business School where she specialized in crisis management and sexual assault prevention. In 2018, Beth moved back to The Berkshires where she grew up and where her family of origin still resides. She opened a private practice in Pittsfield where she treats adults and couples. Beth takes an eclectic approach to her work with patients using various modalities including mindfulness practice, cognitive behavioral therapy and acceptance and commitment therapy. Beth is passionate about bringing people together to learn from one another. She enjoys leading a variety of groups and workshops in the community.
---
Tricia Lewis
Hello all! My name is Tricia Lewis, and I am a Registered Yoga Teacher with 200-hour trainings through Hot 26 Revolution and Radiance School of Yoga. I use the combination of my trainings, one based in methodical alignment and foundations, and the other based in creative vinyasa flow, to design dynamic classes aimed at giving the practitioner a full body, mind, and soul experience. As an instructor, I am excited to share with my students the healing and transformative benefits of yoga, both on and off the mat!
As a student coming to my class, I want you to feel welcomed by the community & (more importantly) by yourself. Come as you are – excited, tired, nervous, content, & everything in between – knowing that there is space for all of it. I would like my students to transcend feelings of self-doubt and move to a place of unconditional love and acceptance. Trust your process, come to your mat whenever you need to and leave feeling accomplished, refreshed and at peace.
---
Sue Parsley
Sue Parsley is the owner of Lenox Yoga and a long time educator. She is a certified master yoga instructor specializing in Corporate Wellness, and has trained with many amazing people over the years. Her practice and teaching is most influenced by David Swenson and his Ashtanga Roots. In addition to teaching and lecturing at many WORLD CLASS facilities including Canyon Ranch Lenox, Club Westmoor in Nantucket and Equinox in Vermont. Sue also serves as the Wellness Director at The Center for Motivation and Change in the Berkshires. As a former athlete and coach, Sue quickly found her way to the forefront of yoga teachers. With the precise instruction and athletic edge she adds to each of her classes, it makes them palatable to both the seasoned practitioner and the weekend athlete. Sue works with many celebrities and high profile clients sculpting their bodies naturally and her approach has landed her respective Awards for Outstanding Guest Service at Canyon Ranch for 10 years in a row. In 2015 and 2016 Sue was named Ambassador to The Canyon Ranch Institute, an honor reserved for those who embody the highest standards of wellness, both personally and professionally. She brings a light, fun and creative energy to every class she teaches.
---
Rachael Plaine
Rachael has always had a passion for dance and movement which led her to receive a B.A. in Dance from the University of Massachusetts – Amherst, where she took her very first yoga class. In 2010 she became a licensed Zumba Instructor, in 2011 she received her Kripalu Yoga Teacher certification and she has been teaching throughout the county ever since! In 2018 Rachael opened "Berkshire Yoga Dance & Fitness", a community minded movement studio located in downtown Pittsfield, where she teaches weekly yoga classes in-studio, online and outdoors. In addition to her work at BYDF, Rachael also teaches online for Kripalu Center for Yoga & Health.
Her love for movement has carried her through the roller coaster of life and continues to help her to grow, learn, love and find peace and gratitude in every moment. When she's not in the studio, you can find her spending time with her family, her daughter Iyla and their dog Samba – enjoying the beautiful Berkshires. Rachael feels truly blessed to create work that she is passionate about and looks forward to sharing her love for yoga, dance and fitness with you, while "Finding Joy Through Movement" one moment…one breath at a time!
---
Jessica Raistrick
Jessica Raistrick, LCSW, has more than 20 years of experience in the mental health field, working throughout the continuum of care in various positions. Jessica is currently a Reiki Master and a Licensed Clinical Social Worker in the states of Connecticut and Florida. Throughout her career, Jessica has experience being directly involved with clients up through different Director positions. She has worked in building and training staff to reach different families and clients in order to facilitate accessing and receiving the critical treatment they need. Jessica has also led different teams by providing structured programming and encouraging open lines of communication between disciplines. Most recently, Jessica is in private practice and has recently released her book "The Gut Check" which is a short workbook designed to help people reconnect with their intuition.
---
Jeanne Schnackenberg
My name is Jeanne Schnackenberg and throughout my career, I have been leading individuals through experiences with mindful movement, meditation, and nature-based sports. For the last twenty years, I have guided excursions through the beautiful Berkshire Hills on foot, by water and bike. My 200-hour Yoga Instructor Certification is through the Yoga and Ayurveda Center (YAC), in the Pocono Mountains with Steph Ball-Mitchell. Chair Yoga is also with the YAC with Mary Beth Sewald.
As a yogi, I promise to bring fun, acceptance, and elements of the natural world into my classes. I have a Bachelor in Science degree in Natural Resources from the University of Massachusetts, I am an Outdoor Sports Guide, an instructor in Qigong with 15 years' experience and a guide of mindful ShinRin Yoku walks. It is my passion to assist my students in the practices of wellness and joy through the integration of mind, body and breath.
My favorite style of Yoga is Hatha, mindful Vinyasa Flow that focuses on the integrity and alignment of yoga asana. By drawing from both QiGong and Yogic practices my students will improve balance, strength, flexibility, breath control and meditation. These components are essential in my classes and the practice will leave you feeling empowered, energized and grounded in the celebration of body movement and meditation.
When not on the mat or in the woods, I can be found enjoying adventures with my family, volunteering with the Lenox Land Trust, singing, dancing and cooking.
---
Sarah Snider
Sarah Snider is the owner and founder of Greenwood Lake Yoga in Greenwood Lake New York. Her studio offers multiple daily classes of all styles and levels. Sarah is 500 hour certified through Yoga Works. She is also a certified meditation instructor through MNDFL, certified prenatal and postnatal yoga teacher, certified SUP Yoga and PaddleFit Instructor. Sarah has also taught throughout New York City and leads multiple retreats. Sarah teaches students of all levels seeking to develop their understanding of yoga and improve mental and physical health.
---
Mariola Strahlberg
Mariola Strahlberg, MS, LAC spent twenty years in the corporate information technology world with its crazy hours, high stress, unhealthy diet, and difficult relationships. It was a long time ago. For the past two decades she has had a private acupuncture practice and children's center, filled with meaningful interactions with people, meaningful work, a healthy diet and a schedule that has allowed her to live a healthy lifestyle. This experience of living life at the two extremes led to the creation of the Power of One-Third program that you can experience today. For more information visit her website: https://powerofonethird.com.
---
Rachel Stine
Rachel started her yoga journey in college where she quickly fell in love with the physical practice. In 2010, Rachel lost her brother to a drunk driver and she delved deeper into the practice of yoga; both physically, mentally, and emotionally. She completed her 200 hour certification in the Pocono's in 2010. In 2017, she completed her 500 hour teacher training at Kripalu in Massachusetts. Rachel also holds her BS in early childhood, elementary, and special education from East Stroudsburg University. She is currently working towards her masters in education. She loves working with children of all ages and introducing them to yoga. Rachel holds additional yoga certifications in Prenatal, kids, yin, restorative, meditation, Kripalu vinyasa, and is a reiki master. She is also a Thai massage therapist.
In addition to teaching, Rachel loves to learn and has studied with Kino MacGregor, Seane Corn, Tao Porchon-Lynch, Jason Crandell, Tymi Howard, Michelle Dalbec, Sudhir Jonathan Faust, Coby Kozlowski, and Sudha Carolyn Lee. When Rachel's not only her mat, you can find her
spending time with her husband, two daughters, one son, and three dogs. They enjoy hiking, exploring, and traveling. Check out more info at www.rachelmstine.com
---
Kat Whitney
Kat Whitney is an educator and coach working in the field of human potential for more than 30 years. Incorporating a variety of disciplines including yoga, developmental neurobiology, self inquiry, individualized learning, and a broad range of ethical, philosophical and spiritual traditions, Kat creates curriculum and programming in fields as diverse as secondary school education, global online education and the insurance and technology industries. With a Masters in Education from Harvard University, research in the field of ADD/ADHD and the highest levels of certification in yoga and mindfulness, Kat seeks to provide innovative, holistic programs that help people discover and develop their most embodied self and personal true north.
---
Susan Wrba
Susan Wrba is a 500-hour Kripalu yoga teacher, 500-hour Ayurvedic yoga teacher, and Integrative Health Coach, with over a decade of experience studying and working in the fields of yoga and wellness. A dedicated practitioner, teacher, and mother, Susan integrates her knowledge and studies of Ayurveda, nutrition, and mindfulness into her guided experiences and classes. Her aim is to impart practical take-home wisdom to support students in their ongoing practice, growth, and evolution.
Practice with Susan at Kripalu Center for Yoga and Health, or at Berkshire Yoga, Dance, and Fitness, and learn more about Susan and her offerings by visiting her website susanwrba.com
---